Living in Nijmegen: Why Move to the Vibrant City?
The Netherlands is famous for its extraordinarily beautiful and welcoming cities, brilliant architecture, and an indescribable atmosphere of harmony and ease. However, even in the list of stunning places in this European country, the town of Nijmegen stands out for its peculiar charm. We will be happy to tell you more about this wonderful city, and you will learn the most important things about living in Nijmegen and its points that are worth your close attention.
A Little Bit of History
We should definitely start with the fact that Nijmegen is the oldest town in the Netherlands. Located on the Waal River in the region of Gelderland, 88 kilometers from the capital Amsterdam and 90 kilometers from the famous city of Rotterdam, it can boast a 2000-year history that dates back to the military fortress of the 1st century AD, built by the Romans.
In the Middle Ages, Nijmegen flourished, and it is to this time that it owes its stunning architecture. It was part of "Operation Market Garden" in 1944 during the Second World War. However, the hardworking Dutch managed to restore the most beautiful cathedrals and buildings and return the town to its unique and inimitable appearance.
Nice Places: a Few More Reasons to Expat in Nijmegen
The features that amaze everyone who has arrived in this Dutch city are the harmonious architectural and park ensembles, unusually majestic and picturesque for such a small settlement. We offer you a list of places that can make you want to stay here for a long time (and even forever):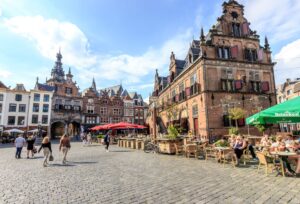 Besides, we can't but mention such a wonderful place as Velorama, the only official cycling museum in the Netherlands. Today, its 5 large halls hold over 500 exhibits, including historical, military, and racing bicycles of various periods, starting in 1818. 
By the way, there are three times more bicycles in Nijmegen than in cars! That is why the town received the status of the cycling capital of the Netherlands in 2016.
Student Life in Nijmegen: Some Interesting Facts about Living in Nijmegen
If you are thinking about studying for an exchange, Nijmegen is just what you are looking for. This town is considered to be a kind of a students' Mecca, and today students make up about 12% of its population.
It becomes even more interesting if you learn that there is only two universities in Nijmegen—it is Radboud Universiteit, and the HAN (applied sciences). The Radboud Universiteit is one of the largest in Europe, with its 7 faculties, excellent research base, and around 19 thousand students from all over the world. Why does the town attract them so much? The reasons are rather weighty: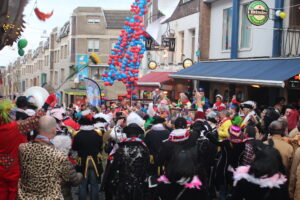 Ample opportunities for student work.

As a member of

Erasmus, Nijmegen

University is open to internships, studies, and teaching students from Europe. Since the start of the Programme, Radboud has accepted thousands of students and tutors from other countries.

Inspiration for sports.

There are several major sports centers in Nijmegen, including Radboud. Low prices, a variety of programs, and psychological support become an impulse to take care of your fitness and health.

Breathtaking nightlife.

The rhythm of student life in Nijmegen is truly ongoing. If during the day, between your classes, you can visit the gym, visit a restaurant, a café, or fast food for lunch, or enjoy a cup of coffee somewhere next to the Waal River, then evening and night are the times of the fieriest parties. The number of pubs and clubs in the town is impressive. Bar & Diner,

Camelot

, Malle Babbe, NDRGRND – and these are just examples. Here you can dance, have a great time, and make a lot of new acquaintances.
What Will You Have to Spend As a Student in Nijmegen?
And now some figures for those who prefer more accuracy. Living in Nijmegen can be quite expensive (but far cheaper than living in Randstad and Amsterdam), but seeing what the city has on offer we are sure you do not mind the extra costs. 
So, as for the accommodation, be ready to spend about €800-1200 for a furnished apartment because this amount implies an optimal balance of price and quality. The second-highest expense relates to food, and a student spends about €250 on average on it, although everything, of course, depends on your stomach. And yet, if you want to be wise with your spending, Lidl will be the optimal solution for you.
Furthermore, you must not forget about your entertainment and hobby expenses. Sports enthusiasts usually spend money on gyms and sports centers, the cost of which varies from about €15 to €23 per month. RSC, Radbaud's own gym, is the most affordable option, with its €10.25 per month or €123 per year. If you are a club jumper and prefer nightlife, then your spending depends on the scope and your preferences, including drinks. Local beer will cost you about €3, while stronger liquor will make you pay €5-10, and a cup of espresso for more energy will cost you €2.
Bottom line of Living in Nijmegen
Transport accessibility, splendid architecture, a rich cultural heritage, the opportunity to gain valuable learning and teaching experience, opportunities for any lifestyle, and a delightful vibe typical of ancient European towns of the kind make Nijmegen an excellent place both for a trip and for living. Every day spent here promises discoveries, acquaintance with amazing landscapes and beautiful places, as well as a feeling of warmth and peace that will stay with you while you are here.
If you are still looking for a place to stay in Nijmegen, make sure to visit our residences page to find the place which you can proudly call home.